BUD Presents a New Product on the Russian Market
25.02.2019
---
BUD, the world's most expensive alcoholic drink brand, has presented BUD 66, its new super premium brew, on the Russian market. This new brew has an even smoother taste with a lower alcohol volume of 4.3%.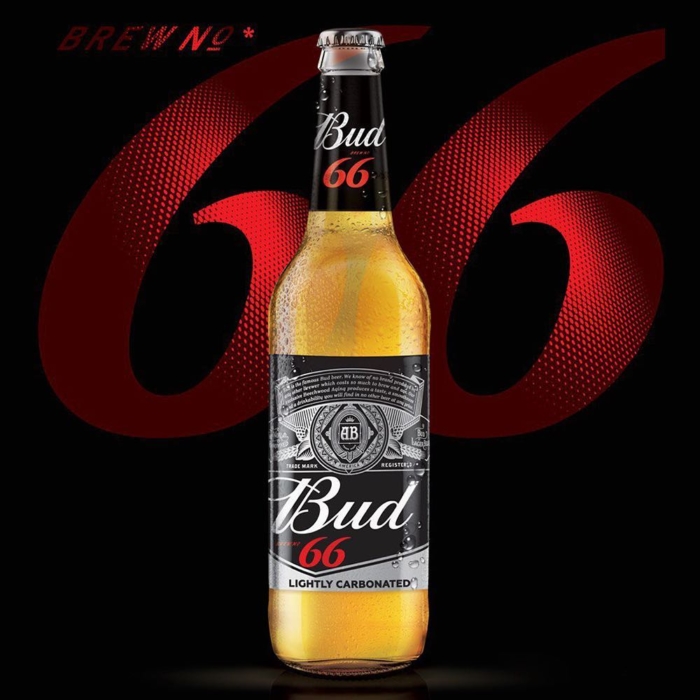 Brew 66 is a number of the unique recipe specially developed for the new brew at the iconic brewery in St. Louis (Missouri, USA) – the homeland of BUD. In addition to the strictest requirements to quality ingredients, the new recipe is based on the use of a special light-stable hops grade, longer period of conditioning that is characteristic for BUD (28 days as compared to standard 14 days for classic lagers). A perfect balance of all ingredients gives the new BUD 66 brew a remarkably smooth taste.
"Growing interest for premium brands became the decisive factor for making BUD 66 – a new brew from the brand well-known and loved by the Russian consumers. BUD has always strived to speak the same language with its audience, that is why we are not just trying to satisfy the demands of the Russian consumers but we are ready to predict them, establishing the market trends. I am sure that BUD 66 will quickly find its admirers among the bright and stylish modern youths"

Konstantin Tamirov, Marketing Director, AB InBev Efes 
Design of BUD 66 is the embodiment of a laconic premium style that will definitely appeal to the audience of young people who are always on the go, looking for some new experience. The brand is designed under the impact of modern culture and rhythm of the big cities where no stereotypes or rigid boundaries will be tolerated. It is an intricate combination of traditional, well recognized elements of the legendary brand and innovative, creative solutions. And this is not a random approach: BUD 66 audience is not just a bunch of folks who love quality brew – it is a community of creative, free, stylish young people who will get a totally new and unforgettable experience from the brand this year.
BUD 66 will be available on the market in classic and alcohol-free versions.
BUD 66 is a totally new product on the European market. Russia is the only country on this continent where BUD 66 is marketed. Earlier, the brand was successfully launched in Paraguay where the annual output reached almost 400 KHL in just four years.