Hoegaarden 0.0 is committed to unlock the creative potential of participants of the Rainbow festival Global fest
01.08.2019
---
The Rainbow Global fest festival will be held in Yekaterinburg, the country club "White Horse" on August 3, 2019. Belgian brand Hoegaarden 0.0 will become a partner of the event and will help guests to discover their creativity.
During the festival Hoegaarden 0.0 will create a territory of research and creativity in the format of a green garden with a greenhouse, where guests can express their uniqueness and relax in the company of friends.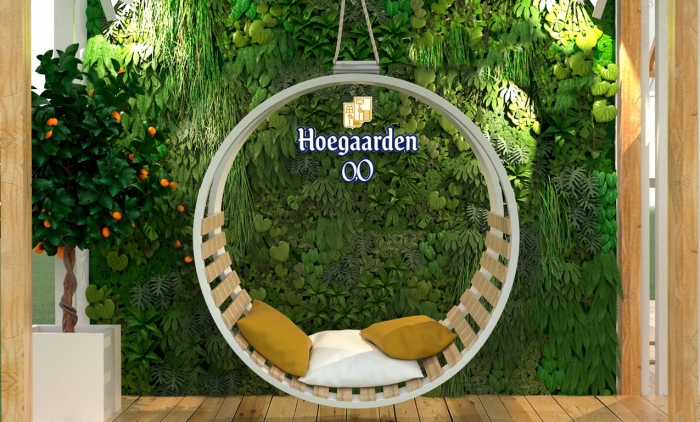 «Despite its long history, Hoegaarden 0.0 is still one of the brightest refreshing drinks with a bold recipe of wheat, orange peel and coriander. We really appreciate the opportunity to be where creative and passionate people gather, including gastroenterologists. That's why we made the decision to become part of the holiday Rainbow Global fest, a partner of which is the largest gastrofestival "Oh, Yes! Food"»

Konstantin Tamirov, Marketing Director AB InBev Efes
For the guests of the event, the brand has prepared an exciting activation #vkus_kak_puteshestvie, in which everyone will be able to participate in the master class and get acquainted with the secrets and technologies of the famous wheat Blanche. Participants of the master class will be able to create souvenirs by their self — frames made of natural materials with herbarium from natural ingredients that are part of Belgian beer — orange peel, coriander, hops, wheat.
In addition, guests of the festival and participants of the #vkus_kak_puteshestvie, posting photos on Instagram, will have the opportunity to master the art of drawing on textiles in the technique of linocut and create a unique design for a bag or t-shirt. Together with Hoegaarden 0.0 guests of the event will get unforgettable impressions and new experience, which they will be reminded of gifts and souvenirs.